Portland isn't all patchouli and hackysack. In a city where it rains 70% of the time, watching movies is a huge pastime and the fantastic array of shopping, sightseeing and gorgeous restored independent movie theaters in the City of Roses is proof positive that Portlanders are serious about cinema. If you don't have plans to visit the Pacific Northwest anytime soon, don't fear – I've included online shopping links wherever possible so you can get a taste of what our big little town has to offer. Read all the way to the end for my BEST tip to see a movie at the most unusual theater theater in Portland for FREE!
Hollywood Theatre
4122 NE Sandy Blvd
According to their Mission Statement, the restored 1927 Hollywood Theatre is both a theater and "a not-for-profit organization whose mission is to entertain, inspire, educate and connect the community through the art of film, while preserving a historic Portland landmark." (AND a fantastic photo op location for you Insta-Crazy folks!) If you're a local, they offer a tiered membership program for as little as $45 annually (only $30 for students and seniors!) which offers a multitude of benefits including presale access to their insanely popular 70mm screenings and access to members only special events. What's a historic theater without souvenirs, right? They have you covered! Prints, t shirts, pint glasses and gift cards are all available to give your favorite movie geek an ending they WON'T see coming.
PdxChange
3916 N Mississippi Ave
This is THE place to go to find gifts for the person who has everything, but it's especially great for horror movie fans. PdxChange is the only store in The Pacific Northwest that carries The Thing Artbook. The gorgeous 400 page coffee table book features original art from over 350 DIFFERENT artists, all inspired by John Carpenters horror sci-fi masterpiece, "The Thing". The publisher, Printed In Blood, deserves kudos for their forethought to include social media information for every artist. Filling your Insta feed with new talent just got a lot easier! Before you hit the road, grab a handful of souvenirs with an assortment of cinema-centric enamel pins from Wicked Critter. Jewelry-quality lapel pins featuring characters like Maria from the silent film, Metropolis and a Pop culture Stanley Kubrick mashup from the in-demand Brazilian artist, Butcher Billy, that must be seen to be believed.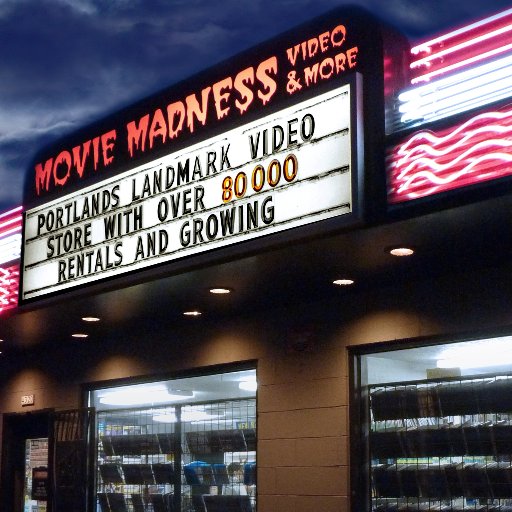 Movie Madness
4320 SE Belmont Street
In a Netflix world, where does a brick and mortar movie rental store fit in? Originally opened in 1991, Movie Madness is one of very few movie rental stores still operating today in the US. One reason is their Museum Collection, a cache of movie memorabilia in addition to the 80,000+ titles to rent (Yes eighty thousand- not a type o!). Movie Madness houses a one of a kind collection of movie props and memorabilia including the knife from Psycho and the ear from Blue Velvet. After perusing the memorabilia, stroll through aisle after aisle of laugh-out-loud movie categories like Ferocious Fetuses and before you leave, grab one of the "Movie Madness Presents" titles on DVD. At only $8 and with titles like "Trapped By The Mormons" and "Seven Footprints To Satan" you can buy one and gift one to a movie loving friend who needs a laugh.
Portland Airport Free Microcinema
ONE final stop before heading home and you're in luck – it's INSIDE the Portland Airport and it's FREE to all ticketed passengers! In 2017, the Hollywood Theatre opened the first of its kind mini movie theater which shows short films by regional filmmakers. There simply can't be a better way to pass the time waiting for your flight home. And when was the last time you got anything for free at the airport? SCORE!
Leave us a comment with your favorite Portland movie location or cinema-centric store and if we can, we'll visit them and do a follow up post in the future!